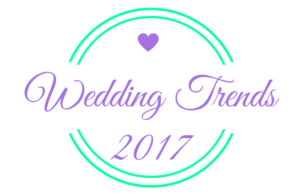 Happy New Year! We're kicking off this glorious 2017 with SB Events' key wedding trends and predictions to look out for this year. So grab a cuppa and some left over mince pies and enjoy…
♥ Marble ♥
We're seeing a lot of 2017 couples adding marble touches to their big day from stationery items to cake. The marble textures add a softness and romantic feel to the wedding, and by adding metallic tones such as copper complements the marble and is perfect for an urban luxe wedding. We love the cake shown here from Blossom Tree Cake Company and I'm sure we'll be seeing a few more marble designs from them in the months to follow.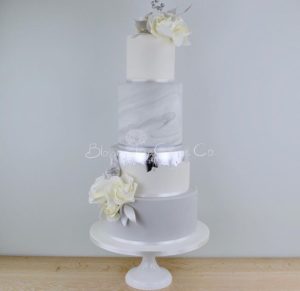 ♥ Photo backdrops ♥
Photo booths are still very popular and great fun at evening receptions, but look out for photo backdrops hitting weddings this year. Couples are going all DIY and setting up a photo backdrop complete with props so that guests can take photographs and selfies throughout the reception and make lasting memories of the special day. We love the ones from Booth Revolution BR Studio Life who already have an array of colours and patterns too fit with your theme.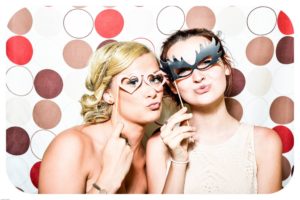 ♥ Tablecloths ♥
We love sequin tablecloths to add that wow factor to your wedding tables, 2017 will see more opulent tablecloths and table runners such as crushed velvet as seen here by Vow Wow Décor. With availability in various colours means that you can incorporate this trend into your wedding theme and add that extra luxurious feel to your special day.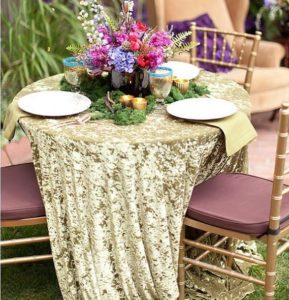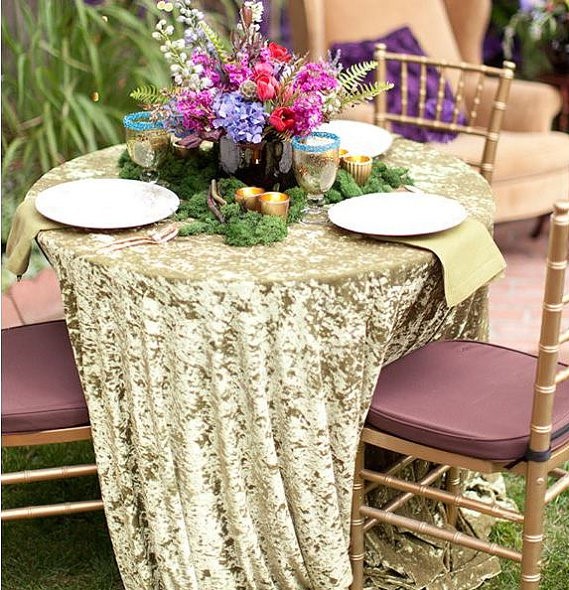 ♥ Keeping it in the family ♥
We love seeing couples choosing to host their wedding reception at a family home using parents/grandparents land, making it more personal and allowing couples to have a blank canvas space to bring all their wedding themes and styles to life. This type of venue is becoming more popular and there is a big increase in 'back garden' marquee weddings coming this Summer.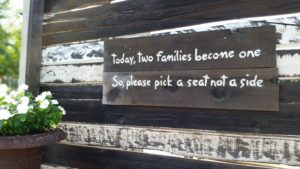 ♥ Flowers ♥
Floral trends for 2017 are all about textures and nature. Spring will see lots of muted tones such as greys and dusky blues, compared to the bright shades of 2016. Summer will incorporate hues of green including the Pantone colour of the year 'Greenery'. Foliage will also be incorporated lots into floral designs, adding to softer floral colours and emphasising natural and romantic styles from bouquets to floral decor.
♥ Food ♥
2017 will see a step towards more street food stalls, mobile kitchens and buffets and less emphasis on the traditional sit-down wedding breakfasts. Lots of caterers are now becoming more mobile so that they can prepare and deliver their food anywhere and at any venue. We predict fish and chips, pulled pork sandwiches and paella will be popular dishes served at receptions this year.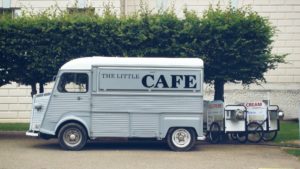 ♥ The Dress ♥
Bridal gowns are going to be BIG this year, with long flowing dresses and long trains bringing out the goddess in you. Materials such as tulle and lace are adorning the 2017 catwalks giving the gowns a dreamy and romantic feel. Designers to look out for are (left to right) Rosa Clará,  Victoria Kyriakides and Gala Lahav. Brides are opting for Cathedral length veils to complement their elegant bridal gowns and to complete the look.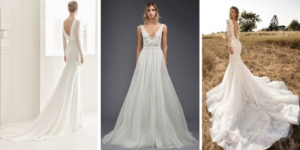 ♥ We hope you have enjoyed reading our key wedding trends and predictions for this year to come. If you have, please share with your friends and family and don't forget to pop across to our social media pages and say hello ♥